We offer what you decide to have in Bystro.
Bystro is community, Bystro is really yours to play with.
Until you come to us with your good ideas and suggestions, so far we propose:
We SELL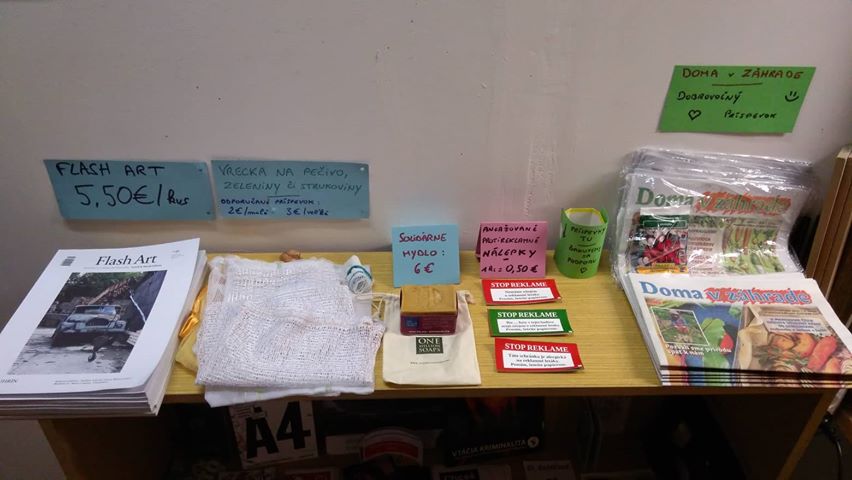 Committed "Stop Ads" Sticker for postbox (0.50 €/ pc)
Magazine " Doma v záhrade" (voluntary contribution)
Bags for pastry or vegetables (sewed from old curtains in Bystro) (2-3 €/ pc)
Revue Flash Art (5,50 €/ pc)
Envelopes (for free, different sizes)
Seeds (free or voluntary contribution, wide selection)
Board games
Why did we stop playing when we grew up? Come play with us!
So far, we have:
Citadela
Exploding Kittens
DIXIT
Story Cubes
Ligretto
Poznaš Bratislavu
SmallWorld
Goblini
Drači Srdce
Scrabble + KrisKros
Logic
Bang!
Vysoké Napěti
A iné …
All our games come with rules in Czech or Slovak, and English.
Drinks and Snacks
Healthy Herbal Teas
Good Old Melta
Bio and Fairtrade Coffee
Slovak (homemade) syrups
Honest apple cider from old varieties
White / Pink / Red wine from the local wine maker
Good beer and homebrewed beer by PánJán
Local Cider
Chips, dried fruits
More drinks according to availability and season.
Download recommended contributions here.
All our products are local (except coffee) and organic. More details in Bystro.
Members have a reduced fee for the refreshments.