Event manager for community center Bystro


Are you a hidden talent in organizational skills you would love to develop? Do you enjoy networking with interesting people? Become an event manager at KC Bystro.
The main role of the event manager is to be the contact person for everybody interested in organizing events in Bystro. Manager negotiates dates, timing, rent, entrance fee and other related issues (projector, materials for workshops etc). In some cases the event manager actively looks for potential cooperation with individuals and organizations. Cooperates with Bystro team on daily basis tuning details and clarifying any confusions.
Time required: approximately 1-3 hours weekly.
If you are interested, contact us at bystro@bystro.org so that we can arrange a meeting to explain further details and discuss your and our expectations.
Bystro guardians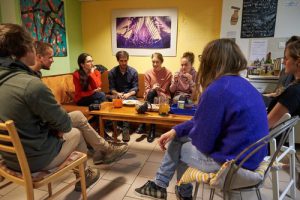 Do you care for community, ecology, voluntary modesty, sharing, sustainable life style, respect to diversity?
Are you responsible, open, sociable and assertive? If so, we are looking just for you. KC Bystro is looking for volunteers to be in charge of Bystro between 5pm – 10pm Thursday – Saturday.
We need volunteers every day to open and close and keep an eye on Bystro in between. The people coming and going may be either Bystro members or participants of various events and our volunteers make sure the place and events run smoothly.
Volunteers usually take turns in pairs during the week on individual basis.
The main tasks are: open and close, keep Bystro clean and tidy, welcome and inform new comers about Bystro ideas and rules.
Required skills: responsibility, assertiveness, open mind, minimum basic English conversation skills
Time: cca 2-3 hours per week on agreement
Volunteers get training before they start.
If you are interested, please contact our volunteering manager Monika at monikaa.mikulova@gmail.com