Bystro community, new events, technical improvements and moving slowly forward
Bystro has been here for over 3 years. The year of 2019 was somewhat different, from the previous ones, although the essence remains. So, what made it special?
Bystro people & special atmosphere
Anyone who's been to Bystro has surely noticed the unique atmosphere, owing not only to the place and its activities but especially to the people. Naturally, the Bystro community is fluid. Someone leaves, someone joins and Bystro is (also thanks to this movement) always something different.
We are becoming increasingly aware of the importance of relationships, the ability to work together and what we've created together thus far. At the end of the year, we were looking to answer the question "what does Bystro mean for you?". For many of us, among other things, it is associated with remarkable sense of belonging and community of conscious people who care about the world…
One member expresses the uniqueness of Bystro as "Bystro magic. Those moments when time stops. Sometimes, when we create together, other times just talking after a lecture or concert… "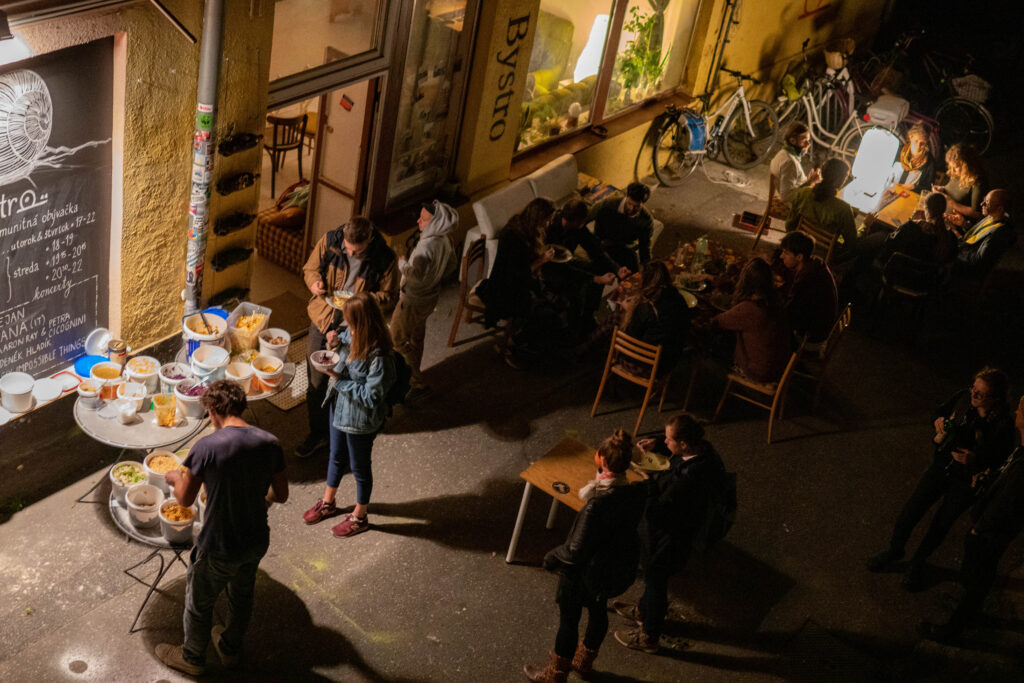 Inspirational events and updated schedule
In 2019 we managed to organize some 99 different events! 🙂 Among the ones that became our regulars were "Opravovačky" (Repair workshops) – where we fixed broken things. On Wednesdays, meditation and yoga were held and regular Jam Sessions, hosting various musicians, were added to the Bystro program as well.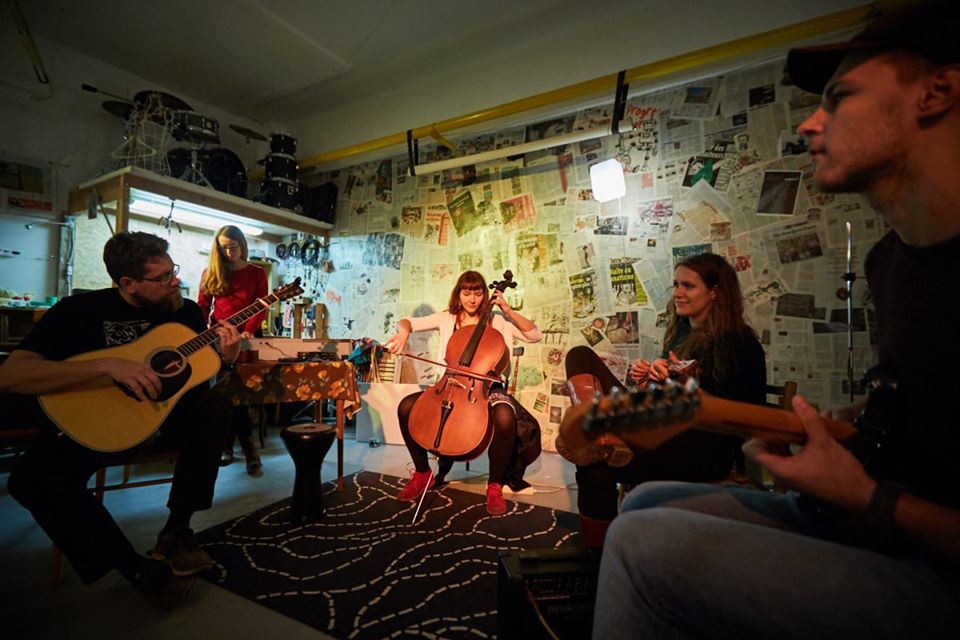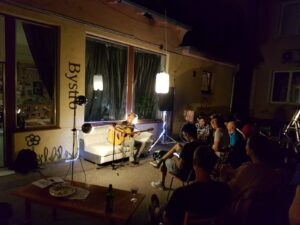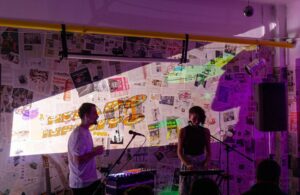 This year, Bystro was truly alive with the sound of music. Among the 22 concerts that took place, the most popular ones were by bands Helado Infinito, Ivory Tusk, Gonsofus, 3 punk – Harry & James & Vraket, Johnny Campbell, a beautiful sitar concert, as well as Latin American chill in the yard with Tomas.
The courtyard at Karpatská street was more alive this year thanks to our neighbors from Coworkshop BA who had their studio next door. Together, we spent many beautiful evenings producing, repairing and joining forces on regular First Fridays.
We've organized various lectures and workshops. Among those thematically closest to us were: theater workshop "Bezrast" (Degrowth), VLK's lecture on "True nature protection", BROZ discussions on "Migratory birds in the city", discussion on the "Rights to the city in times of climate crisis", workshop on "Creating a community project", "Plant graft exchange" with OZ Genofond and also an inspiring discussion on "Food waste", where we exchanged ideas on fighting this problem.
We've eaten "saved food" throughout the year and our local bar was complemented by excellent craft beers from Banská Štiavnica city.
The Bystro schedule was additionally enriched by events such as "Chilean Uprising", where we've talked about protests in Chile with people who are directly affected by the situation. The event "Traveling differently", where four travelers talked about how to travel responsibly and enjoy it, filled Bystro to the brim. At the "Library of Ideals" we've dreamed together and combined our ideas about more beautiful future, as part of the "Fjúžn festival".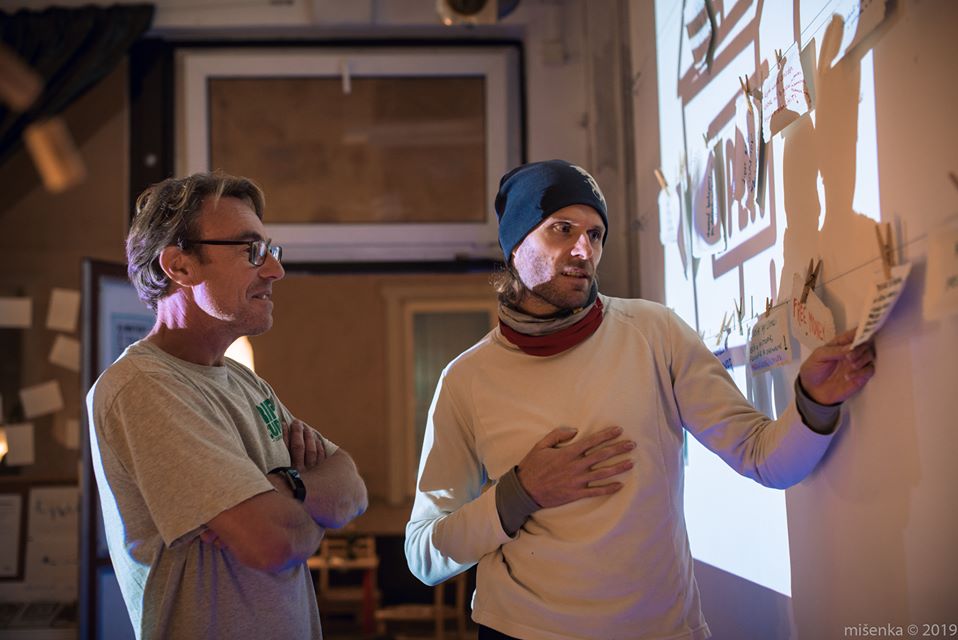 At the end of the year, we held popular activities focused on personal development – "Authentic relating", where members of Bystro had the opportunity to practice how we can be more honest and true to each other.
Bystro also housed the production of protest posters and banners by activists for Decent Slovakia, Fridays for Future SK, Extinction Rebellion SK, and other rallies for nature protection.
In addition, Bystro became a regular "meet up" spot for activists from Extinction Rebellion, Direct Action and we hosted an original poster exhibition of the Hogwash collective – " Zyeme všetko."
Of course, we had to have SWAPs – exchanges of clothes, thanks to which a large amount of clothing found a second life or a way to be recycled.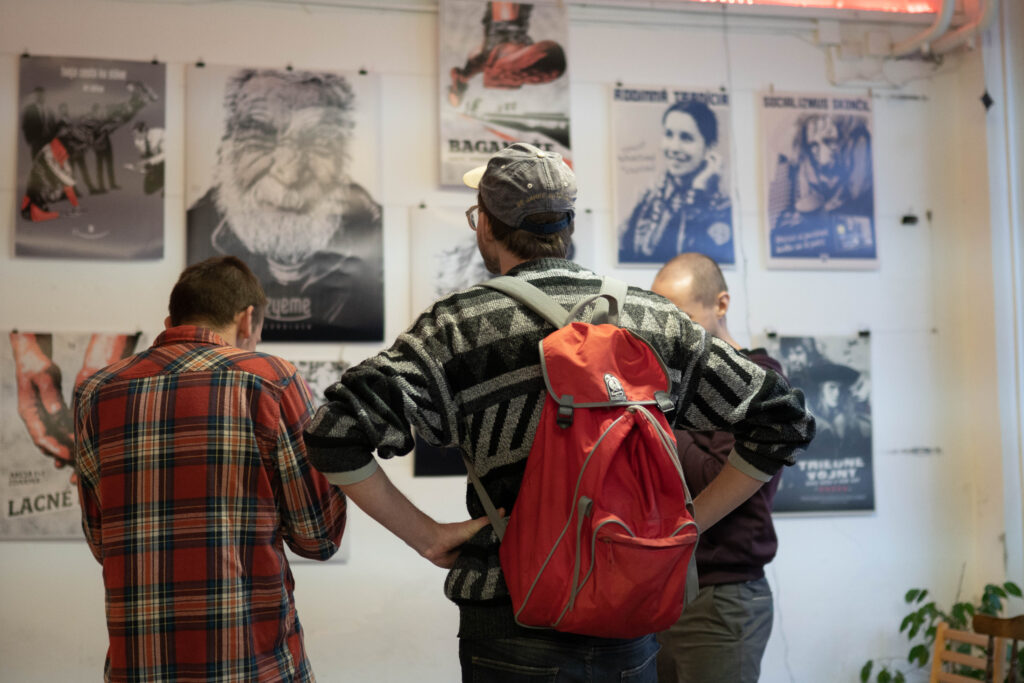 Technical changes and improvements
Many will remember unique moments from our courtyard lit by DIY lamps made of plastic jugs, which perfectly complemented the beauty of summer events. This was one of our technical improvements of 2019. Through occasional volunteer help, we cleaned and reorganized the warehouses, "Library of Things" and beautified the interior of Bystro.
Thanks to the crowdfunding campaign and support of many people, we purchased equipment for concerts, tools for "Opravovačky" and most importantly infrared panels for heating, so the winter in Bystro has got a little more bearable. 🙂 At the same time, we managed to settle our debts and at least partially, breathe a sigh of relief when it comes to finances.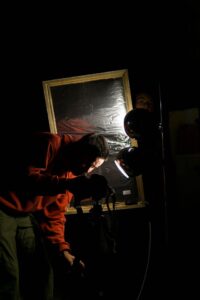 Finally, we´d like to share a summary and vision for future by one of our members: "Bystro is a truly unique place in Bratislava, where people can be themselves – be real people. Money has no power here. Every city should have its own Bystro. In fact, the entire city should be like Bystro and consumer society should cease. "
We give our thanks to everyone, who is with us, creating and keeping Bystro as it is.